How to choose Moleanos limestone tiles
There are a few factors to take into consideration if you buy Moleanos limestone tiles, as any other natural stone tiles. It is a finished products, normally very standardized and there are several companies offering the same type of product. So, which are the main criteria to take into consideration when choosing Moleanos limestone tiles? Here we present some:
1. Price
Certainly one of the main decision making factors on choosing limestone tiles. For the Moleanos, it is important to consider the different variations when it comes to pricing. The Moleanos variations can be resumed as beige or blue/grey. The mainstream variation is the beige, which has more quantity, is more available and affordable. Within the beige variation, we can have the Moleanos Classic type (or medium grain), Moleanos Fine grain and Moleanos Vidraco (a harder type). And then we have the blue variation, a more rare type of Moleanos called Moleanos Blue that occasionally has a block. This Blue variation is becoming more and more expensive.
2. Dimension
There are several possible dimensions for Moleanos limestone tiles, according to the clients needs. There are the standard dimensions such as 30x30cm, 40x40cm, 60x60cm, 60x30cm and 60x40cm. For any dimension below 60x60cm, the prices will be cheaper, which is mainly related to waste that makes the 60x60cm and above. These dimensions normally come with 2cm thickness, whereas the 30x30cm can also come with 1cm or 1,2cm thickness.
3. Finishing
The most common types of finishings for Moleanos limestone tiles are the polished, honed, brushed and tumbled. These are finishings that can be easily done with less thickness (such as 1cm or 2cm), without danger of breaking the limestone. Other finishings such as bush-hammered or split face are recommended with thicker pieces. The Vidraco Moleanos can exceptionally accept the flamed finishing.
4. Grade / Variation
This is perhaps one of the most important factors when choosing Moleanos limestone and what can define its price and quality. Market prices for Moleanos can vary quite a lot, but in general we can say that the beige variation is the most affordable, while the blue variation is more rare and increasingly expensive. If you manage to find the blue variation available, do not expect it to be affordable.
5. Packaging
This is an important point to consider when buying Moleanos limestone tiles, specially if you are importing the tiles and not buying locally. The transport and handling of the crates can damage the tiles, therefore it is essential to make sure that your supplier provides proper packaging. A normal packaging is in wooden crates, with some separation between each tile (a plastic sheet, string, etc). These wooden crates should be properly reinforced to resist the constant movements caused during transport.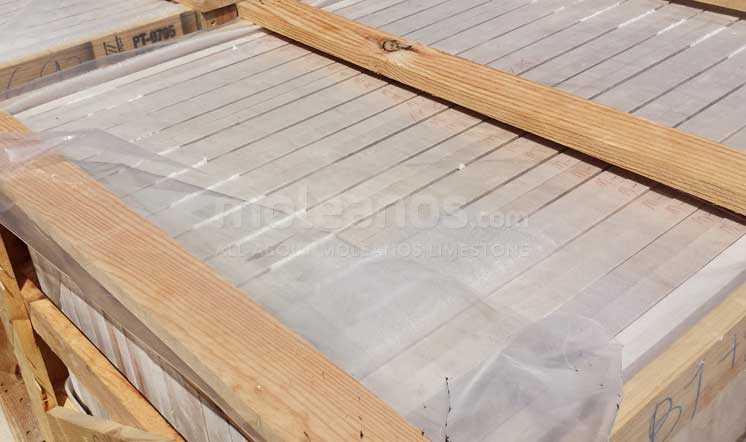 6. Stock or New Production
A factor you could consider when choosing Moleanos limestone tiles is the age of the tiles. The limestone tiles can be supplied from an existing stock, or some new ´fresh´ production. With some natural stones, age may change its natural color. This is not the case with the Moleanos limestone, but nonetheless you do not waste much in asking about the age of your limestone tiles. If you are buying from ´fresh´ production, you might even be able to choose the exact variation directly on the slabs, before processing.