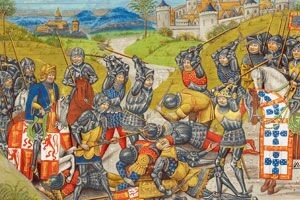 The Moleanos limestone is extracted in the area around the town with the same name as the limestone: Moleanos. Moleanos is a small town by the main national road that connects Lisbon to Porto, located in the centre of Portugal. Moleanos lies at the footsteps of Serra D´Aires e Candeeiros Natural Park, the most important limestone extraction centre of Portugal.
Moleanos is also known for its close location to the town of Aljubarrota. Aljubarrota is well known for its historical importance as a stronghold of the Portuguese against the Spanish invasion. In 1385, D. Nuno Alvares Pereira led the Portuguese in a battle against D. Juan of Castilla, known as Battle of Aljubarrota. The Portuguese won and gained independence from the Spanish, having D. João I as the new King of Portugal.
Today, Aljubarrota is a small town that has kept its medieval-historical architecture and is a reference place to visit for people interested in knowing more about the true history of Portugal.
The Limestone
The Moleanos limestone is explored around the area of Moleanos – Aljubarrota, by few companies with small to medium size. The quarries where the limestone is explored are considered of large dimension and the the majority of blocks are extracted and prepared for export in medium sizes. The Moleanos extraction area is included in the ring of limestones extraction area, together with other major limestones such as the Moca Cream, Semi-Rijo, Rosal or Azul Valverde.
The Moleanos limestone is a type of natural stone known for its endurance and versatility. Due to its hardness, uniform and light background, it can be used in basically any application. It is common to find uses in both interior and exterior applications, in stonework, cladding, flooring, among many others.
Constraints
Unfortunately, as is the case with the other main Portuguese limestones, the exploring area for the Moleanos limestone is located in a protected Natural Reserve – the Serra D´Aires e Candeeiros Natural Park. This situation constrains the extraction expansion and development of some quarries, which raises questions about the short / medium term sustainability of some of the quarries.
In the meantime, the Moleanos limestone will continue to be one of the most important and preferred Portuguese limestones all over the World.