Beige Limestone Analysis: Moleanos
The Moleanos is a reference beige coloured limestone and a very interesting type of limestone due to its versatility, competitive price and uniform looks. We analyse here this unique limestone from Portugal and try to understand a little better the reasons of its success.
Background
The Moleanos limestone is extracted around the town with the same name: Moleanos. This area is located in the central part of Portugal, within the boundaries of the Serra D´Aires e Candeeiros, a large natural reserve which is home to the main limestone extraction area in Portugal.
The Moleanos has become in the past few years a reference beige coloured limestone, with considerable demand pretty much all over the world. It is common today to find this limestone on company´s catalogues from all over the world.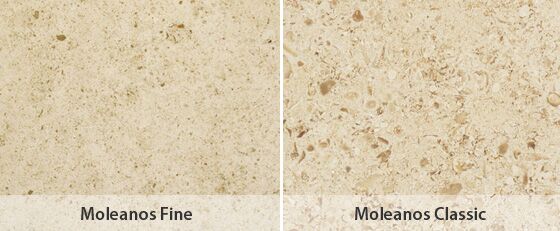 Variations
There are several variations within the same limestone. All variations are extracted in the same quarries, but normally come at different layers or sections of the quarry. These are:
– Moleanos Classic: also known as Moleanos medium grain, it presents medium grain, some small signs of fossils and a well defined beige colour.
– Moleanos Fine: it presents quite a thin grain, some occasional darker spots and very uniform background.
– Vidraco Moleanos: the combat variation of the Moleanos limestone, with less availability. This variation is harder than other and is the only one that accepts flamed finishing.
– Moleanos Azul (Blue): this variation presents a similar structure to the Moleanos Classic (grain, background), but it has a blue / greyish colour.
– Moleanos Mixed: this is the mixed variation of the Moleanos, combining beige and blue colours.
Finishings
The Moleanos is an extremely versatile limestone, being used on a large diversity of applications. In addition, it accepts pretty much any type of finishing, including flamed (which is not common on limestones):
– Polished: the most common type of finishing for this limestone, this finishing highlights the natural elements and colour of the Moleanos.
– Brushed: it maintains the natural colour of the Moleanos, by giving its surface a smooth and anti-slippery capacity.
– Bush-hammered: a rough type of finishing that changes the surface of the limestone into a more lighter beige.
– Flamed: this finishing can only be done on the Vidraco Moleanos variation. It presents a slightly rough surface turning the Moleanos into a light beige / pinkish coloured stone.
Markets
The Moleanos is today a reference beige coloured limestone, being found on catalogues of companies all over the world. It has a considerable demand on several markets, with particular incidence on some:
– China: this market imports large amounts of blocks, for transformation into slabs for the domestic market and export
– United Kingdom: the Moleanos is an extremely popular limestone on the UK, mainly due to colour and strong technical properties
– Central Europe: the Moleanos has also a considerable market in places like France, Germany and others
– Some Asian countries: Korea, Japan, Singapore are few examples of places where this limestone has considerable market penetration
– North America: mostly for standard sized tiles market. The Moleanos is here known as Gascogne Beige or Blue
Applications
For a limestone, the Moleanos presents some amazing technical properties. It can accept the flamed finishing; it is recommended for below zero degrees temperatures; it can be used on a diversity of applications; and much more.
This limestone is very versatile and is today recommended for pretty much any type of application. With exception of flooring applications with intense use, kitchen counter-tops and other applications more recommended for granites or marbles, the Moleanos can be used in most types of applications.
Some preferential applications are flooring, coverings, cladding and stonework.