Moleanos Fine Project: Hilton Schiphol Hotel
The Hilton Schiphol Hotel has already become an iconic building located at the Schiphol airport, in Amsterdam – The Netherlands. Its unique design and style has immediately created an impact as one of the reference hotel buildings in The Netherlands.
This landmark project involved the supply of over 5.000m2 of Moleanos Fine limestone tiles from Portugal. The limestone was used to cover mostly the main lobby area, but also several service and secondary areas on the ground floor. In addition, the common areas on the flooring at the 1st level were covered, as well as several wall coverings on WC. Finally, the main staircase from the lobby area was covered with the same limestone. All panels were quite large and with a honed surface. The final result is a fantastic job, where the light beige limestone fits pretty well in the contemporary and innovative design of the building and its interior decoration.
Project Profile
Building Type: Hotel
Location: Amsterdam, The Netherlands
Materials: Moleanos Fine
Applications: Interior Flooring, Staircases and Wall coverings
Hilton Schiphol Hotel exterior view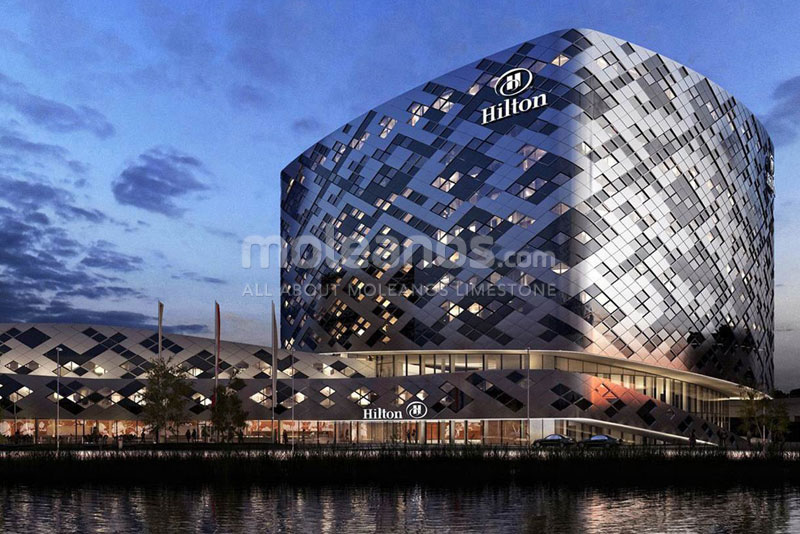 Moleanos Fine interior flooring at lobby area
Moleanos Fine interior flooring at bar area
Moleanos Fine interior flooring at lobby area
Moleanos Fine interior wall coverings at WC area
Moleanos Fine interior flooring at 1st level
Moleanos Fine interior flooring at 1st level